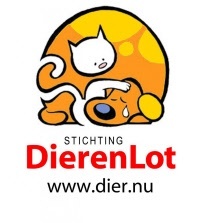 Volcanic Earth Europe supports Stichting DierenLot.
Volcanic Earth Europe supports the DierenLot Foundation.
Stichting DierenLot stands for abused, injured, discarded and neglected animals in the Netherlands.
This concerns home and companionship, stray and animals that lives in wild nature.
They do this in collaboration with and by supporting more than 300 local and regional
animal aid organizations where thousands of volunteers are actively involved in caring for the animals.
Their help consists of providing financial support and assistance in kind.
But they also offer a solution for transport.
With almost 150 animal ambulances driving throughout the Netherlands
(loaned by Stichting DierenLot to the animal welfare organizations)
they are represented on the road throughout the Netherlands.
In addition, they work hard to improve the self-sufficiency of local and regional animal welfare organizations.
In all this they can use your support well.

Stichting DierenLot wants to get more publicity. You can easily help with that.
Go to: www.dier.nu
Or donate to: GIRO2329
Volcanic Earth Europe in action for Dierenlot.
For every sold pure Tamanu Oil 15ml, Volcanic Earth donates € 0.30 to Stichting Dierenlot.
https://www.dier.nu/help-dieren-in-nood/ondernemers-en-dierenlot/ondernemers-dierenlot/