Tamanu (Calophyllum inophyllum):
Locally all the parts of the tree, leaves, bark, roots, etc. used medicinally in the folk medicine.Tamanu possesses the unique ability to form new tissue,
(cicatrisation) to grow healthy skin and wound healing works.

If you suffer from a troublesome skin condition or know someone who does, then you have stumbled upon a unique product that just may be worth giving a try.
Sufficient scientific studies have been done in Europe, Japan and the U.S which puts Tamanu-Oil in the super-oil category. This oil has the unique ability to promote the formation of new skin tissue and it possesses
anti-inflammatory, anti-neuralgic, antibiotic and antioxidant properties.
Tamanu oil, also known as Foraha oil and green gold, is pressed from the fruit of the Calophyllum inophyllum plant, better known as the Tamanu nut tree. The plant receive its name from Latin meaning 'beautiful leaf', hence another popular nickname for the age-old remedy: Beauty Leaf Oil.

In the traditional medicinal practices of the Pacific islands, Tamanu-Oil has been used for centuries to soothe and effectively eliminate various infections, skin conditions. It was applied topically to soothe scrapes, cuts, burns and sunburn, blisters, scars, mosquito bites, dry skin, acne, eczema. It is also traditionally used to treat body and foot odors, nerve irritation.
Tamanu

(Calophyllum inophyllum)

The skin and hair care benefits of Tamanu Oil should not be underestimated.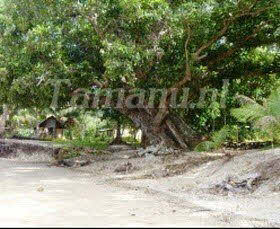 The skin and hair care benefits of Tamanu-Oil can not be understated.
We often get questions like:
► What is Tamanu-Oil ? "or"
► What does Tamanu-Oil do for the skin and or Hair-scalp? "
► Can I also apply Tamanu-Oil when I have acne, or hives or greasy skin and also on my scalp. Yes and also on places where we all do not like to talk about. The anus when the skin is irritation, but also small burns and so many more benefits gives this special Tamanu-Oil.

Tamanu-Oil not only gives your skin and hair a glossy effect, the oil makes your skin healthy again.
1 Drop Tamanu-Oil is sufficient for daily use.
Tamanu-Oil is an incredible oil! It is more than just a beauty oil. Your skin will not only glow it support the repair of your skin. How did this oil came to human ? Thousands of years ago the natives of the pacific saw a big tree growing near the ocean. They soon found that the nuts contained a special oil, they used the oil to protect their skin from the hot sun, humidity and sea breeze.

There is a very small stock Tamanu-Oil™ in the world because it can be obtained only in such a small area. No less than 100 kilograms Tamanu fruit (the full harvest of one tree per year) is needed to produce just 5 kilo grams of Tamanu-Oil.

Tamanu-Oil is the most effective, natural skin healing oil in the world for topical use. Tamanu-Oil™ is produced from fruits (nuts) of Tamanu-trees.
The oil is 100% natural, chemical-free and 0% artificial additives.
Tamanu-Oil has been proven effect when it is undiluted.
Tamanu-Oil does NOT make your skin oily.
It actually make your skin a bit more dry and is effective on scarring and small wounds.

Pure Tamanu-Oil contains polyphenols, these are anti-inflammatory
and have an anti carcinogenic effect.
The Effects of Tamanu Oil according to folk medicine
Traditionally the oil is used for acne scarring, treatment of psoriasis, eczema, skin, hair, as an anti-aging product or as an ingredient in cosmetic products, the oil is also used for sunburns, wounds and more.
Pure undiluted Tamanu-Oil™ is origin manufactured in the Pacific and comes from Tamanu-trees that grow in warm coastal areas in their wild state close to the sea shore. These trees generally found on sandy soils, is tolerant of wind, salt spray, brief periods of flooding and prefers full sun. These trees produce the best quality refined Tamanu-Oil™.
Function of Tamanu-Oil™ according to Folk medicine :
There are so many active ingredients found in the pure and original Tamanu-Oil™ that explain why Tamanu-Oil™ works so well for skin problems and seems to be good for the healing of wounds, also when you suffer from acne or greasy hair.
One of the components is calophyllolide, what appears to be anti-inflammatory. Other elements of the oil appears to work antibacterial. The oil is also rich in oil and linolenic acids, which moisturise and soften skin, but does not make your skin oily, which is perfect when you suffer from acne.
Everyone knows that the human skin is the largest organ of our organ system. Several damaged skin will try to heal by forming scar tissue. This is often discoloured and de-pigmented. Tamanu-Oil™ effectively increase the healing process by penetrating deep into the underlying connective tissues of the skin and promoting the growth of new skin tissue. Traditionally the oil has been used to treat rheumatism, inflammation and promote healing of scars. The oil has also been topically applied to the neck area to threat sore throat.
Medical research has shown that Tamanu-Oil™ has antibacterial and antiviral properties and promote the formation of new tissue and cell healing.
Be careful when purchasing Tamanu Oil
Stay away from black colored, neon yellow Tamanu Oil.

None of these are the real deal and this is one of the explanations why they are so cheap in the market. Unfortunately there is a lot of rubbish oil coming out of several countries claiming the original Tamanu Oil. When you buy them you have no idea, but on the long term you will notice the difference.
For example the Black Tamanu-Oil, this occurs in the process where the Tamanu Nuts have been thrown into the fire to try and speed up the curing process. There is only one process for the original Tamanu0-Oil.
Any other processes seriously diminishes its natural, skin-healing and anti-aging properties.
The same with the neon yellow Tamanu Oil that has been either diluted down with a cheap carrier oil or in some cases, the product has been put through a chemical filtering process. Yes the oil may be a lighter oil but again the product has been chemically stripped of some of its natural components making it inferior and much less effective. While the original pure Tamanu-Oil is expensive and proven effective for centuries by local medicals. It remains difficult to understand the difference when you buying cheaper Tamanu-Oil, but if you suffer from skin conditions you should only try the original Tamanu-Oil which comes from Tamanu-Europe. Authenticity and purity is maintained during the entire process.
All ingredients are subjected to a strict quality control and assayed by GCMS and includes a COA. The original Tamanu-Oil™ is no standard cosmetic product, it has a natural woody or nutty smelling, tinted "green/gold", thick of consistency (depending on the temperature). A few drops easily absorbed into the skin and hair. The oil results in a softer appearance of the skin.
There are many type and undiluted Tamanu-Oil™ in the world claiming to be the best, original and 100% pure. There are even many other species of Calophyllum in the Pacific and tropical Asia, but these tend to be the forest trees rather than coastal species. Studies have shown, that the original Tamanu-Oil™ produces the best strains of Tamanu-Oil™ in the world with its healing properties being extremely powerful.
In our research institute each batch is analysed for purity. Read more on Wikipedia.