► As you can see in the header, there is a possibility to log-in / sign up.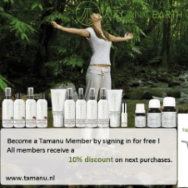 Members - 10% discount
at Tamanu Europe we value you as our customer.
You can become a member by signing in for free on our website.

Wait that is not all - All members receive a 10% discount on next purchases.
If you are not into signing in, we offer you the same discount if you write a review on social media.
Send the review to info@tamanu.nl and we send you the special code for online shopping.
Enjoy !

Members

Become a Tamanu Member today
by signing in for free !
All members receive a
10% discount on next purchases.


Tamanu Oil:
√ Eczema
√ UV Protection
√ Mosquitoes bites
√ Scars
√ Anti-viral
√ Rash
√ Anti-bacterial
√ Anti-inflammatory
√ Muscles
√ Natural Antioxidants
√ Bacteriostatic