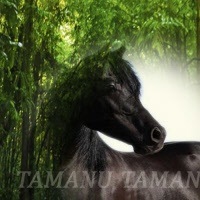 Animals, like human, can suffer from skin conditions, rheumatism, wounds, scars, pulled muscles, sprain or general inflammation,
Applying Tamanu Oil ™ can help to alleviate the symptoms.

When it comes to skin care, people and animals are not that different.
However, dogs and horses tend to be slightly more prone to injury! Dogs are more likely to get scratches when they play or fight with other dogs or run in the woods.
Tamanu Oil and Horses.
The instinctive escape behaviour from horses could be a higher risk in getting wounded. Beside that we use horses in all kinds of circumstances and an accident can occur rapidly. It is said that 80% of the horses somewhere in their life sustain at least one serious wound.
Why is a wounded horse often a problem?
Horses have beautiful long legs where many important structures (joints, tendons, nerves) lie directly under the skin. These structures can easily be damaged if a wound occurs. Therefore, wounds to the legs are usually more dangerous than wounds to the trunk.
Another problem is that horses heal relatively poorly: the horse is the worst healing species on earth, together with humans! Horse wounds heal slowly, and often get complications such as a wound infection, wild meat, abnormal scars.
Pure Tamanu-Oil ™ contains polyphenols, which appear to have anti-inflammatory effects, an anti-carcinogenic effect. Tamanu-Oil ™ is only proven effective when it is undiluted.
Tamanu-Oil is well appreciated for animals. But be aware, dogs and cats have a strong tendency to lick their wounds. This is a natural process for cleaning their skin. The problem with licking Tamanu-Oil ™ is that Tamanu-Oil ™ is not edible.
Our advice is therefore to apply a small amount only to the affected area. And prevent your animal to lick the Tamanu-Oil.
Tamanu-Oil ™ can contribute to recovery due to its antibacterial and antiviral properties. Itching behind the ears, chest, abdomen, legs can be a kind of allergy
in dogs and cats that can cause a wound or inflammation quickly,

The benefits of this 100% natural Tamanu-Oil ™ are endless and supports.
√ wounds
√ swelling
√ skin infection
√ ulcers
√ dry skin
√ itching
√ bruised skin
√ hair loss
√ crusts
√ redness
√ joint pain
√ healthy skin
Pure Tamanu-Oil ™ is the most effective skin repairing oil for external use. Tamanu-Oil ™ is produced from fruits (nuts) of the Calophyllum inophyllum. The oil is 100% pure, natural, undiluted, free from chemicals and artificial additives.