Increaseleukocytes, white blood cell.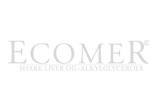 Ecomer is more than a unique product to support the immune system. Ecomer contains alkyl glycerols, a body's own substance with effects that are essential when your body feels stressed out or a cold is coming up. The health benefits of alkyl glycerols for the endurance of fishermen in Norway in Sweden have been described in traditional medicine.
Ecomer is a result of 40 years of scientific research conducted by various scientists around the world. Many studies show that alkyl glycerols stimulate the immune system by increasing the production of white blood cells (leukocytes) to a normal level and encouraging an increase in antibodies.
By adding alkyl glycerols to a diet, the production of antibodies in the bone marrow is accelerated.
We also tested this in our research institute with a number of test persons for a while.
The results are presented in a report and shown for further research to various scientists who were still unfamiliar with alkyl glycerols. Independently positive results have been achieved in the blood. The results were highest in people with reduced resistance.
√ A strong immune system helps the body fight against various complaints.
√ Standardized and carefully controlled shark liver oil rich in alkyl glycerols
√ The most active alkyl glycerols are isolated by a natural production process.
√ High purity, natural product without chemical additives.